Wintech Italia Srl
How to Reach - Where to Stay
Wintech Italia is in Piacenza, Italy, an ancient town founded by the romans and located in northern Italy on the river Po, about 40 miles south of Milan. Some of the most famous Italian towns including Florence and Venice are about 3 hours away by train or car, but even Piacenza is worth a visit (as you can see in these pictures I took in the main square) for people coming from abroad or living in Italy.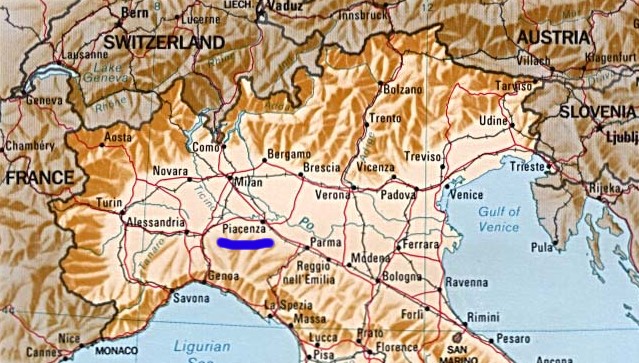 Wintech Italia offices are located in downtown Piacenza, in Via Castello 65, on the border of the no-traffic zone and in an area where parking is hard. Luckily enough there is a huge parking lot nearby. The offices are at the ground floor of an old building, in a quiet area, at walking distance from the town center.
---
How to Get to Piacenza
By Plane: The nearest airport is Milan Linate, but Milan Malpensa is an alternative. From both airports, you can get to Milan by train or bus, and from there get a train towards Bologna or Rome, and stop by in Piacenza. Check the Italian railway company site for more details. Getting a taxi form the airport to Piacenza is going to be very expensive, and we have no shuttle bus services in Italy. Better to rent a car, if you are ready for fast speed! Feel free to ask Marco for more details.
By car: Piacenza is located at the crossing of two mayor Italian highways, the A1 going from Milan towards Rome, and A21 crossing from Turin towards the east.
By train: There are direct trains going to Piacenza from Milan, Turin, Bologna, Rome, Genova. See the Italian railway company site for more details.
How to Get to the Office
By Car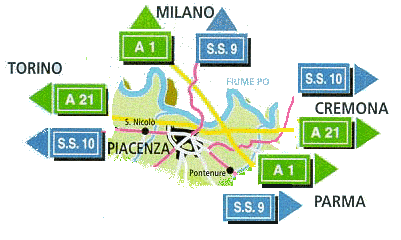 Get out of the highway A21 (Torino-Piacenza-Brescia) at the Piacenza Ovest (West) exit.
Coming from Highway A1 (Milano-Bologna) exit in Piacenza Sud (South), and follow directions for Piacenza Ovest, direction Torino.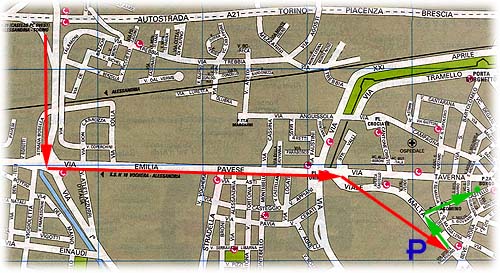 Red Mark (to the park lot):
Exit Piacenza Ovest
Left at light, Via Emilia Pavese
Straight at first light, then right immediately afterwards in Viale Malta
First road on the right (after Questura) you get in a huge and free parking lot.

Green mark (from parking to office):
Get back to Viale Malta
Right in Via Castello, number 65 (a large yellow building).
Train and Public Transportation
If you arrive by train, you can use bus number 1 and 6 (getting off in Piazza Borgo and following by foot along Via Castello) or bus number 2 and 3 (getting off at the first stop of Via Taverna, then walk to the parallel Via Castello). Numbers have changed recently, better ask a bus driver at the station.
If you plan attending a class and spending the nights in Piacenza, consider booking your hotel in advance. Here are a few suggested hotels, with approximate prices (and links to the respective web sites). When booking keep in mind that Piacenza is not a large town: you can walk across downtown in 20 minutes, and cross the town by car in about 15 minutes, even with heavy traffic. For more info the Tourist Office has the number 0523/329324.
| | | | |
| --- | --- | --- | --- |
| **** Park Hotel (Best Western) | Strada Valnure 7, Tel. 0523/712600 | 105-150 Euros | Oustside of the town, near the Stadium, is easy to reach by car but quite expensive and requires a car both for getting to Wintech Italia office and to reach downtown Piacenza. |
| *** Hotel Nazionale | Via Genova 35, Tel. 0523/712000 | 65-110 Euros | At the border of the town center, it can be reached by car but allows you to walk downtown and to Wintech Italia office in about 10 minutes |
| *** Holiday Inn | Via E. Pavese, Tel. 0523/499074 | 95-155 Euros | Out of town, in front of the Piacenza Ovest highway exit, is not very handy unless you have a car, although it is connected by bus to Wintech Italia office. |
| *** Hotel Ovest | Via I Maggio 82, Tel. 0523/712222 | 78-96 Euros | Not far away form the previous hotel, but not connected by bus. |
| **** Grande Albergo Roma | Via Cittadella 14, Tel. 0523/323201 | 103-113 Euros | Very nice and in the town center, allows you to walk everywhere, including to Wintech Italia office (in about 10 minutes). |